This Lincoln Park kitchen is clean, white and bright–just what the client ordered. The goal was to update the kitchen in a modern style without door pulls or other distractions. This seamless look was achieved with flat panel Italian cabinets, quartz countertop with matching backsplash, and under cabinet outlets, leaving the backsplash untouched. The mauve-gray paint adds a beautiful subtle touch of color. Check out this project and two other renovations that are currently in the works.
As always, please reach out if you are ready to discuss a renovation. We are now booking our contractors for fall 2023!
Best, Norma
Wicker Park Renovations
This fire damaged condo is just about completely renovated. The modern Mediteranian design style can be seen in the main bathroom where a custom concrete vanity is set off by terra cotta hexagon floor tiles. Gold fixtures add a luxurious look to this spacious room which is outfitted with heated floors and a walk in shower.
The natural color scheme continues in the kitchen with painted wood cabinets and a cream quartz countertop. A butcher block dining counter adds warmth to the otherwise monotone color palette.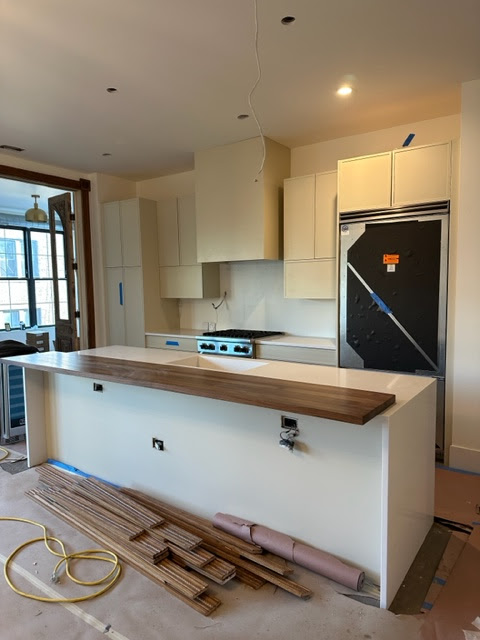 Niles Renovations
A mid-century modern house in Niles will soon be undergoing renovations of its two bathrooms. In keeping with the architectural style, the client selected tile from the WOW Grace collection. The tile is available in capsule and rectangular shapes, multiple colors and a gloss or matte finish, enabling endless design possibilities. The design chosen will feature scattered teal and sand in both finishes on a white background.