A year ago a couple living in Wicker Park experienced a fire that caused smoke damage throughout all 8 units of their building. Luckily nobody was hurt, but the prospect of moving out and rebuilding was daunting and saddening. While this was not welcome news, it gave my clients the chance to redo their home exactly as they wanted. Forging forward with a focus on the silver lining, planning began right away. Now almost a year later, the home should be ready for move in next month. Check out their unique personal style which combines concrete, arches and gold metal finishes to create a modern Mediterranean feel.
As always, please reach out if you are ready to discuss a renovation. We are now booking our contractors for summer 2023!
Best, Norma
Wicker Park
The second bathroom is covered in a mix of tiles in shades of cream. An accent of artisan glass tile adds a sparkle of gold and honey tones.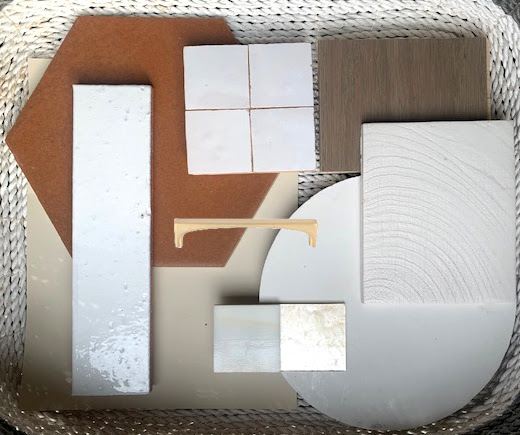 Materials include natural concrete circles, terra cotta hexagons, variegated/textured brick, and Zellige squares.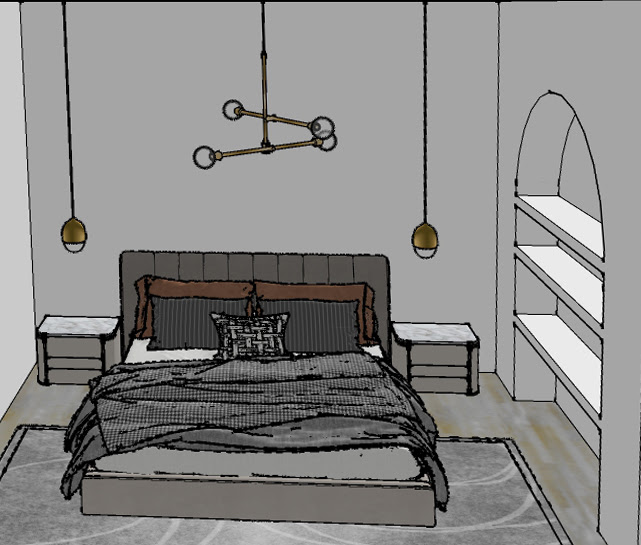 Main Bedroom Design Concept
An arched niche was created for books and display.
Lighting will be added along the shelves and arch.
Main Bathroom Design Concept
While a custom concrete vanity is in fabrication, the wall tile is being installed in the shower and behind the vanity. Arched medicine cabinets, gold fixtures, rain shower head and heated floors complete this luxurious bathroom.
The red waterproofing layer is almost completely covered in a textured white brick tile. When the tile work is done, matching grout will complete the look. The desired effect will be similar to the inspiration photo.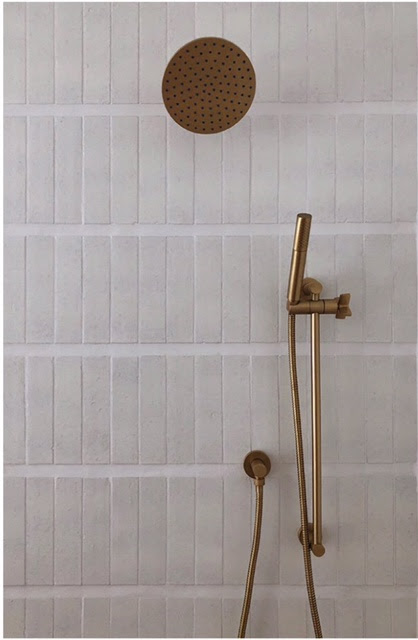 Lincoln Park Renovations
This kitchen renovation is almost complete! The clean, modern design features Italian cabinetry, quartz countertop and backsplash. The room will be painted in a shade of purple-gray as sampled on the wall. It will add some nice color and contrast to the all white cabinetry.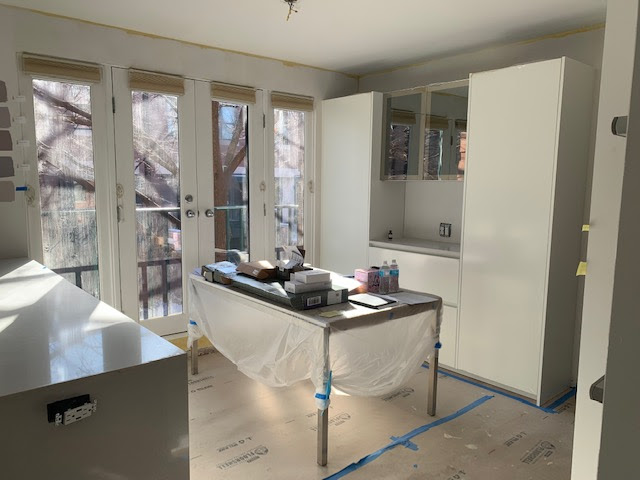 The eating area includes storage and a counter along the back wall.
The room feels spacious and open without cabinets above the peninsula (see the before photos below). A TV is mounted on the wall by the refrigerator to entertain while cooking or eating.
Lincoln Park kithen before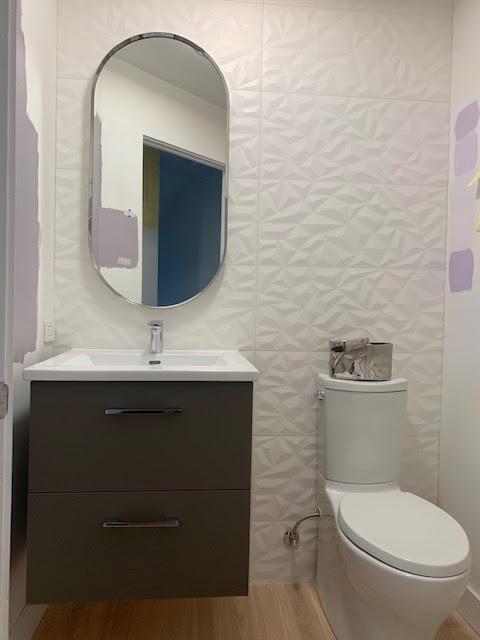 The nearby powder room has been redone with a gray floating vanity and capsule shaped mirror.
Dimensional tile becomes the focal point behind the vanity. The other walls will be painted a slightly darker shade than the kitchen.