Do you want to Age-In-Place?
Tucson!
Last time I asked if anyone could guess where I am currently working on a renovation project. The answer is….Tucson, Arizona, in the beautiful Catalina Foothills. I've enjoyed working virtually on the plans and visiting periodically to check on construction–and get some sun.
Entwine Interiors Southwest office is now officially in the works! Feel free to contact me for more information about the area or if you have plans to renovate there.
While the Tucson House isn't 100% complete, there has been a dramatic transformation already. Read more and see photos below.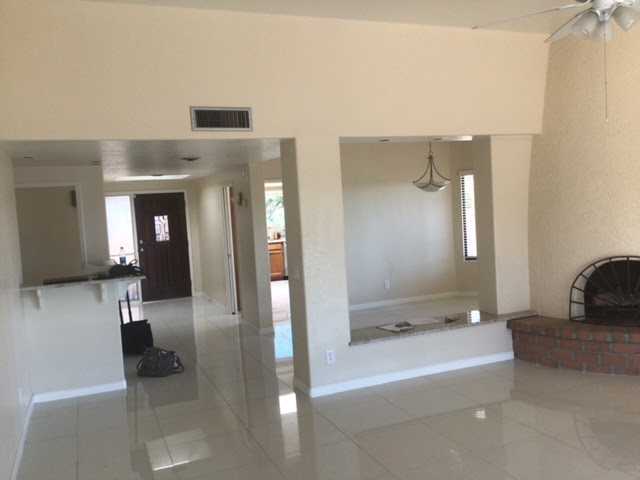 Living Room Before
This lovely home with beautiful outdoor space and views, needed a full renovation. Most importantly the existing polished floor tile was a slipping hazard and it was installed throughout, including the bathrooms.
Living Room After
Porcelain tile in shades of gray has a soothing matte texture that is slip-free. It was installed in the entire house for a seamless look and to avoid thresholds which are a tripping hazard. The new flooring sets the tone for a neutral palette with accents of rust. Freshly painted white walls are accented with a gray fireplace surround, give the house a modern, yet southwest feel. The wall between the kitchen and dining room was removed and now light floods throughout the newly opened space.
Kitchen Before
The kitchen was outdated, dark and drab without much counter space.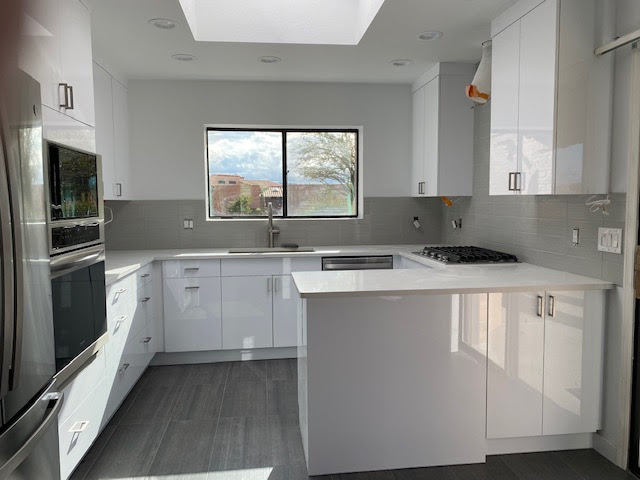 Kitchen After
With the soffits and cabinets next to the window gone, the space feels airy and light. A peninsula increases the much needed storage and counterspace. For added safety and function, can lights and undercabinet lights were installed. For easy maintenance all the lighting in the house will be LED.
Main Bathroom Before
While this room is large, it had an awkward layout and the lighting was inadequate.
Bathroom After
The bathtub was removed to make room for a larger shower with a bench. This "walk-in" shower has no threshold to step over, making it easy and safe to use. A grab bar near the shower fixtures offers a helping hand and blends right in with the other fixtures.
A 3-sided clear glass enclosure with a swing door will keep the room open and bright.
Gold Coast Townhouse
The bathroom for the renovated office/guest room suite is very near completion. A grab bar near the bench offers a helping hand. Penny round tiles create a non-slip surface, which is especially important in wet areas. A hand-held shower head adds function and luxury.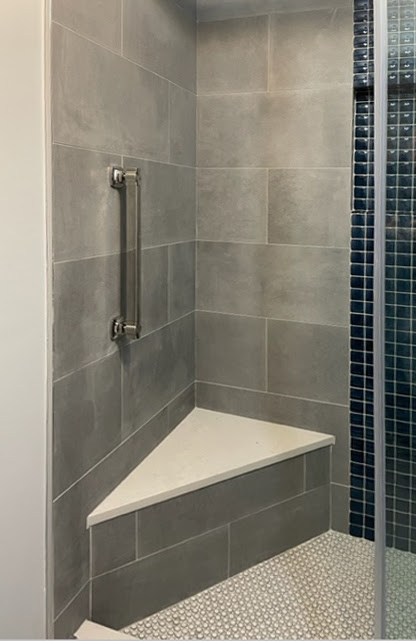 Grab bars don't have to look "institutional". Numerous styles and finishes are available and companies, such as Kohler, used in this bathroom, offer coordinating grab bars in their collections.