Small Bathroom Feels Spacious!
Lincoln Park Townhouse
Even a smaller bathroom can be designed to feel large and open. Removing the bathtub makes room for a spacious shower with a bench. Clear glass doors keep the room light and bright. Glass accent tile adds a bit of luxury and interest. Porcelain tile in shades of gray will cover the floor and shower walls to create a seamless look. Take a look at the materials below and stay tuned as this bathroom's transformation will start next month.
Logan Square Single Family Home
The dining table arrived and the light fixture was installed just in time for Thanksgiving dinner. Classic modern chairs by Eames are paired with a reclaimed wood table from Square Nail, also located in Logan Square. A custom wall mural adds an artistic touch to the modern mixed with vintage design style. After a 6 month wait, the living room furniture arrives next week and will complete this open space at the front of the house.
Gold Coast Office/Bathroom Renovation
The floors have been leveled and the drywall is complete. The next step is installing the tile. The floor will be covered in a gray concrete-like porcelain tile.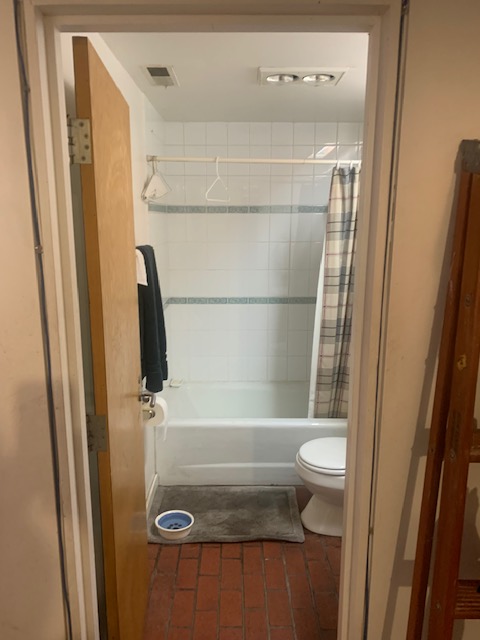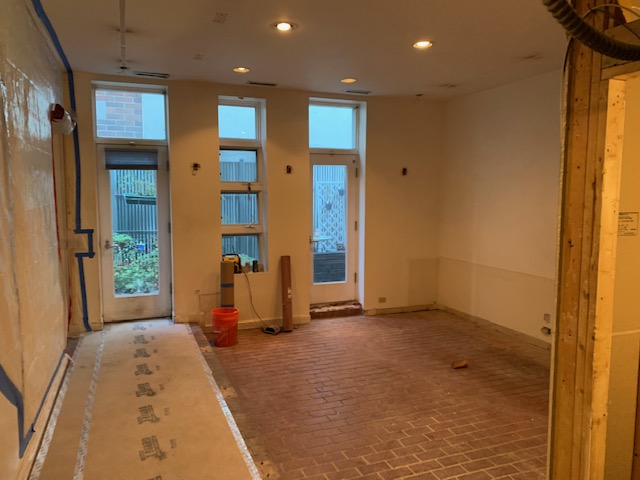 BEFORE view from the entryway
IN PROGRESS
the new office floor is now level with the hallway
BEFORE
view towards the front door
IN PROGRESS
Closets and a niche for a wall bed will allow this office to function as an occasional guest room.