Pets and Babies with Style!
New Construction in Logan Square
During the long wait for furniture to arrive (see below to find out what's on order), the focus has turned to the couple's baby and many pets.  They deserve modern, high quality furnishings and play things just like the people who take care of them.  The owners' desire to provide items for the baby and pets throughout the house was coupled with the hope that they would fit right in with their design style.  Thanks to a whole new breed of makers, it isn't difficult anymore!  Colorful dog beds from Joybird and modern cat furniture from Tuft and Paw  work perfectly with their aesthetic and material preferences.
The lower level playroom is outfitted with non-toxic, eco-friendly and modern baby playthings from such companies as Lalo.  No longer does style and quality have to be sacrificed with these gorgeous designs!
Of course the furniture selected was chosen with the baby and pets top of mind.  The seating from Ligne Roset Chicago will add pops of color and tons of comfort in a super durable ultra suede.  Even the baby gets a child-sized version of the lounge seating in the family room.  A large dining table fabricated from salvaged wood will make a statement amidst the new furniture and abstract wall mural.  The couple loves to mix vintage with modern to create their own unique, eclectic style.
Living Room/Dining Room Design Concept Drawing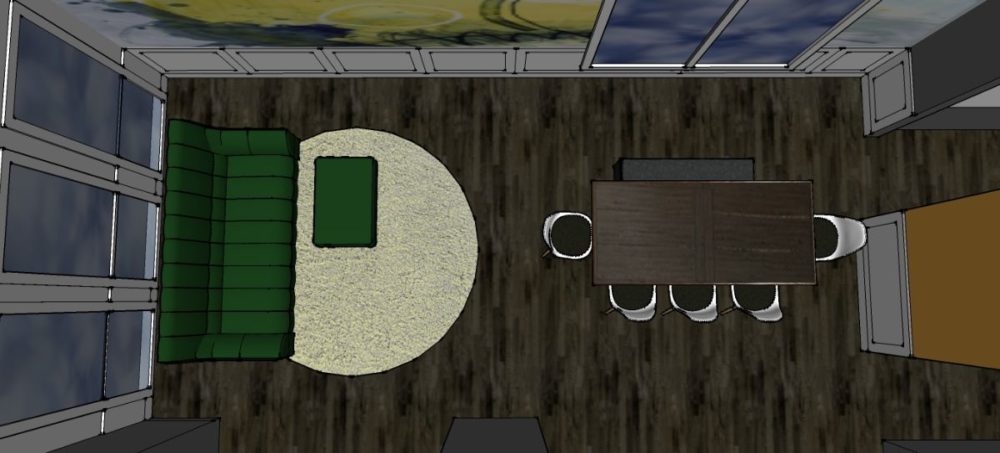 Family Room Design Concept Drawing