Lincoln Park Home Office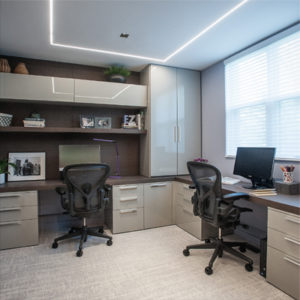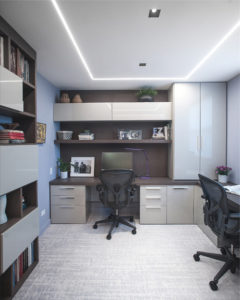 The final photos show a spacious, modern space with plenty of light and storage. The modular Italian furniture features glossy taupe combined with brown-gray wood tones. A woven carpet in shades of gray and cream make the office homey and comfortable. A beautiful shade of purple tinted gray, found in the carpet, covers the walls–it is the perfect hint of an accent color.
Truline, from Pure Lighting, creates a clean line of glare-free general illumination within the ceiling drywall. It can be formed into endless configurations. We chose a simple rectangle to direct light exactly where it is needed, over the work areas. It is punctuated by 3 square recessed lights to brighten up the center of the room. This combination became a striking custom design on the ceiling.
The closet was enlarged to the ceiling and is enclosed by bronze glass sliding doors.
Mies Apartment Building: Kitchen Renovation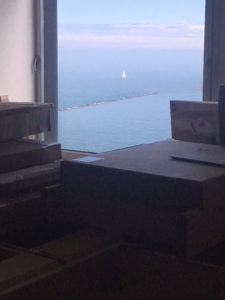 The construction site is piled high with cabinets and other materials, but a beautiful Lake Michigan view can be seen peeking through. The design concept drawings above show how the views will soon be visible from within the kitchen.
This renovation involved removing two walls that made it feel small and cramped, and blocked it from the expansive views (see the before photo, above right). The awkwardly placed 13″ tall soffits were replaced with a 9″ dropped ceiling (see above, middle). This week the drywall will be done and then it is time for the cabinets. Soon it will start looking like a kitchen again!