Tile Time at the Ravenswood Renovation!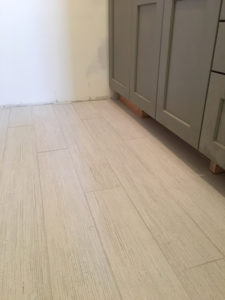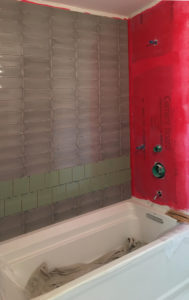 While waiting for the kitchen counters to be installed, the focus has turned to the Master Bathroom of this 4 level townhouse in Ravenswood.  After some hesitation about heated flooring, Chicago's winter kicked in and the decision was made. How wonderful will it be to walk in this bathroom! The floor tile is Yakisugi porcelain plank tile from Ann Sacks. Its design is inspired by the ancient Japanese technique of charring wood to preserve and antique its composition, increasing its strength and visual character.  One wall in the tub has been completed! The background tile is a 4″x 12″ subway tile that has a hand painted feel.  The accent stripe is a ceramic 6″x 6″ that will also cover the wall above the vanity.
The Main Floor is set to be painted!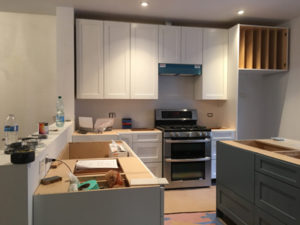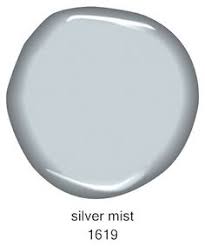 The kitchen cabinets are installed and the measurements for the counter tops have been taken.  Now the 2-3 week wait for install!  The backsplash tile (see below) and the light fixtures go in after the counters, so in the meantime, the painting has begun.  The kitchen walls are a lighter gray/blue shade of the island and pantry.  Below the bar counter will be a dark blue/gray accent.  The dining room and living room are light green gray.  The hallways and stairwells will be a pale neutral color to keep the townhouse feeling light and airy.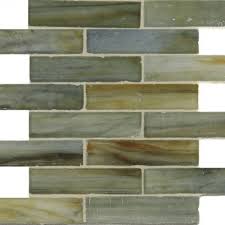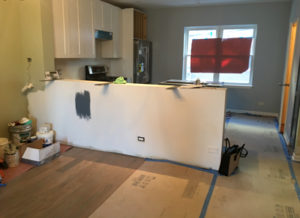 The backsplash tile is from Lunada Bay's Sumi collection, inspired by the Japanese art of ink painting.  The 2,000-year-old art form of Japanese brush painting is rooted in spirituality, and early practitioners trained in the art of concentration, clarity and simplicity to master their designs. The handcrafted glass tiles feature soft, brush-like strokes in rich, flowing colors and are finished with an old world rustic edge.
Benjamin Moore's Light Pewter 1464, Vale Mist 1494 and Silver Mist 1619 were selected to complement this beautiful multi-color tile.
Early next year the Renovation in Ravenswood should be completed!!