Warming up in the Western Suburbs!
Living Room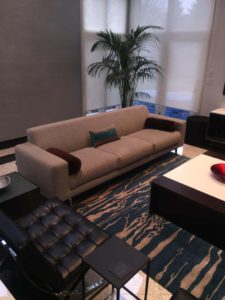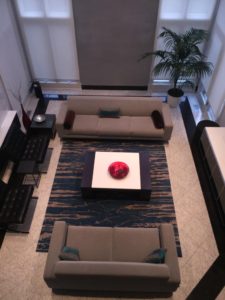 "Warm it up" was the main request. Modern, sleek and with beautiful built-ins and custom details throughout, all this house needs is some color and texture. Starting in the living room, a wool area rug adds a pop of teal blue and softness to the marble floors . A large plant brings nature inside. Artwork for the large silver wall will be a focal point. Pillows and accessories will complete the room and make it an inviting gathering spot for the family and friends.
Entryway
The entryway is transforming into a welcoming place in which to greet guests or chat during long goodbyes. Another large plant was placed next to a custom bench covered in a mid-century modern pattern from Maharam. Artwork was selected for the framed niche by the front door. Shades of red, orange and gold complement the bench while adding depth to the white walls.
In the upcoming months, there will be carpet on the stairs (see them through the glass banister), additional area rugs and artwork, a large pendant light in the living room, side tables, throw pillows and accessories. It's on the way to being a cozy, modern home!