Bathroom Begins in Lincoln Park!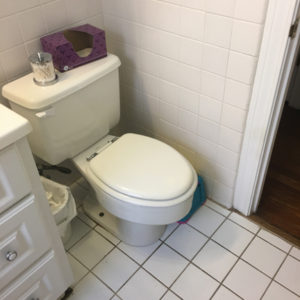 Renovating a small bathroom is one of my favorite projects!  I love the challenge to maximize function and increase storage while keeping the space looking and feeling open and spacious.  The before photos above show the outdated, dark, dull space which will soon be transformed into a beautiful bathroom.

A transitional style will work with the vintage architecture of the apartment–clean and classic in soothing colors of gray, green and blue.  There are so many decisions to make, even for a small space. The couple, who will share the bathroom, know they want to replace the tub with a shower, but will they choose sliding doors or a pivot door as shown in my concept drawings above.
Each option offers advantages and disadvantages that will have to be considered.  A partition wall will give privacy and provide a place for recessed shelving and a towel hook, while sliding glass doors will make the room feel open and larger than it is.  The color scheme  will give the room a calming, spa feel.