Oak Park Great Room: Completed on Time!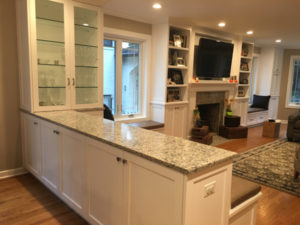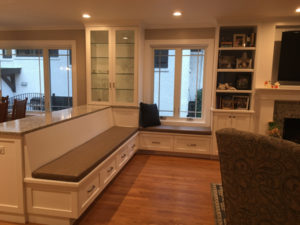 The room was finished just in time for a big birthday party! It was the first one in the newly renovated living room and dining room. This time there was plenty of seating for everyone—at the large expandable dining table and in the living room where benches are plentiful.
Food and drinks were set out on the long buffet that distinguishes the dining room from the living room. A glass door cabinet provides a place to display glassware.The TV is mounted within a niche above the fireplace mantle. Blue accents appear at the back of the bookcases, in the pillows and in the veining of the quartz.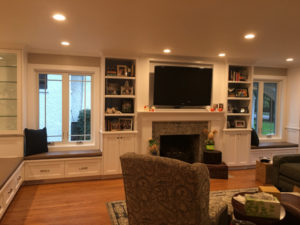 Two small navy chairs in the bay window create an intimate sitting area. The benches provide a cozy spot to stretch out by the window.
The renovation gave this family much needed storage and seating. This new "Great Room" is now perfect for entertaining or spending time together. The children's toys can be stored away and brought out when needed. The built-in cabinetry and hidden storage allows this room to function for casual gatherings with children (and their toys) or for adult dinner parties.