West Loop Kitchen: Counters Installed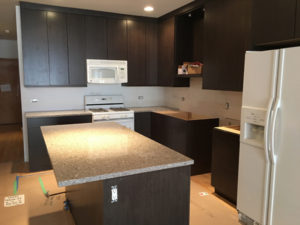 After waiting several weeks, the countertops were finally installed. The quartz from Silestone is a mix of taupe, gray and white in a granite-like pattern. The last big step will be installing the tile backsplash. A gray glass was selected to keep the space neutral and modern.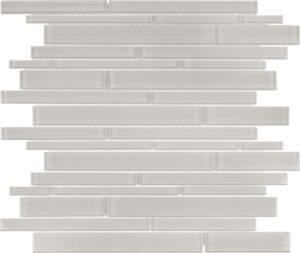 Bliss tile in color Mist Silestone Quartz in Alpina White
While decisions about appliances are yet to be made, for now the white appliances work well. Although some would consider them outdated, they create a modern, clean look against the espresso cabinets. The countertop pulls together the dark shades from the cabinets and the white from the appliances and sink. Who knows, maybe white is the new stainless steel!
Ready to Renovate your kitchen? See our worksheets to help you get started.
Oak Park Great Room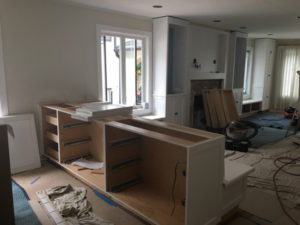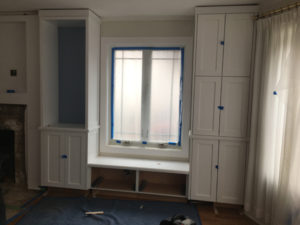 The built-in cabinets are being installed. Their bright white color is crisp and clean. The backs of the bookcases are painted blue to go with other blue accents in the room. As the benches are being put into place, you can see that there will be plenty of seating and storage.
Check in on Wednesdays to see the transformations as they happen!