West Loop Renovation: Flooring Repairs and Fireplace Work Begins
After the cabinets were removed, water damage from the dishwasher was revealed. So next on the list was to have the red oak floor repaired and refinished. Now the damage is undetectable and the floors look new again. Electricity has been pulled to the future location of the island.
The before photo below shows the traditional mantle and granite surround that are now being replaced.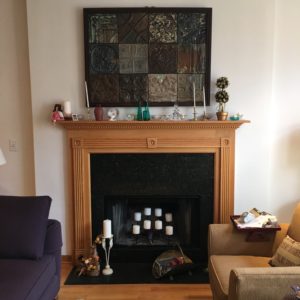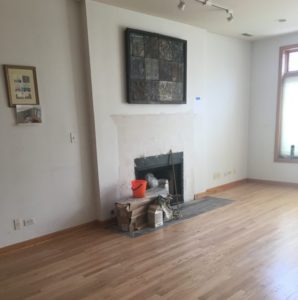 With a few days to wait for the new cabinets to be delivered, the work is starting on the Fireplace. The entire fireplace wall will be tiled in wood textured porcelain. The shape of the tile resembles long planks. A floating shelf made from reclaimed wood will add a unique touch.
The shelf was custom made by Square Nail , a reclaimed wood furniture company in Chicago. Shopping there is an adventure–pick your piece of wood, select a stain and it will be custom made for you.
Check in on Wednesdays to see the transformation as it happens.